Search Tyres by Vehicle Registration
Are you looking for All Season Tyres for your vehicle?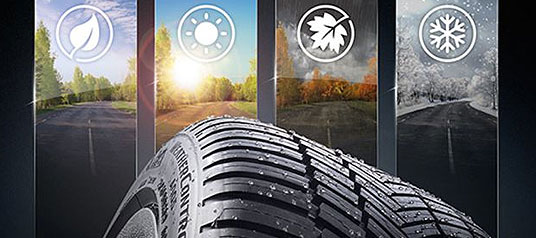 Do you want to avoid the cost of replacing tyres every season?
It is time you switched to all-season tyres.
We Lincolns Tyre Service bring you an enviable stock of all-season car tyres Stevenage. You can buy tyre products from top-rated brands at amazingly cost-effective rates. We bring you all-season tyres in different sizes suitable for every vehicle make and model.
Book online & pay later
Besides a massive stock of superior quality all-season tyres, we provide you with an online tyre booking option. Just enter your car registration number on the tyre finder tool of our website. You will get a list of tyres suitable for your respective car model. Select your preferred all-season car tyres Stevenage from the list and place your order. You do not have to pay anything upfront for the booking. We will collect the charges only after the fitment is complete.
Why opt for all-season tyres?
All-season tyres provide optimal driving control all year round. Hence, it prevents the hassle and cost of seasonal tyre replacements. Let's have a look at the construction of all-season tyres.
Intermediate rubber compound - All-season car tyres are built using intermediate rubber compound. It means their carcass material is neither too hard nor too soft. This composition enables the all-season models to provide a stable car handling experience and tread durability on both summer and winter tracks.
Moderate Tread Depth - All-season tyre models also have a moderate tread depth structure. It ensures uncompromised traction and grip on heated summer tarmacs and snow-covered roads during winters.
Tyre brands you can choose from
At our garage, you can buy all-season tyres Stevenage from different premium, mid-range and budget brands, like:
GT Radial
General
Toyo
BF Goodrich
Bridgestone
Continental
Dunlop
Goodyear
Michelin
Pirelli
Autogrip
Insa Turbo
Runway
We also provide you with the best-selling models, like:
Continental AllSeasonContact
Bridgestone Ecopia EP422 Plus
Pirelli Cinturato All Season
Further, you can choose from different size options, like 205/55R16, 225/45R17, 225/40R18, 195/55R16, 195/65R15, 215/55R16, 185/65R15, 175/65R14, 185/55R15, and 215/50R17.
So, look no more for all-season tyres near me and visit us.
We offer Same-Day Fitting as well!
For further details, call us on 01438354473.