Are you looking for Hunter 4 Wheel Alignment for your vehicle?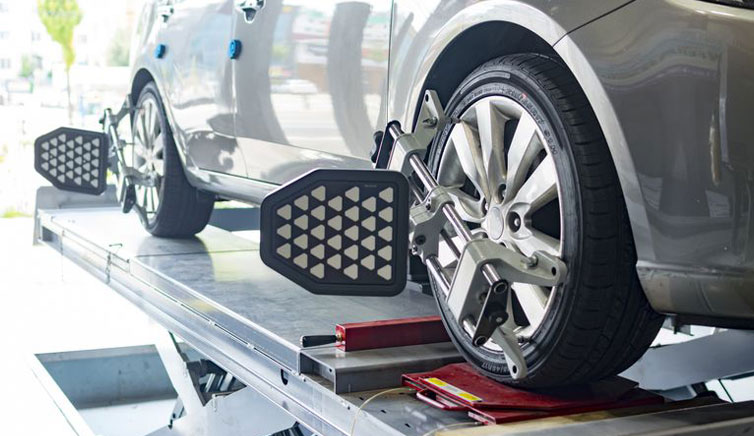 Ensuring proper hunter 4 wheel alignment improves handling performance and longevity of your car tyres. It also assures that tyres contact the surface at the correct angle, improving traction and cornering stability.
If you are looking for a 'hunter 4 wheel alignment garage near me', drop in at Lincolns Tyre Service. Our technicians recommend an alignment check every 6000 miles to ensure optimum car performance and driving comfort.
Why is hunter wheel alignment Stevenage necessary?
Driving over speed bumps or potholes at high speeds causes the wheel assembly and suspension components to shift, leading to misaligned wheels.
This misalignment leads to speedy tread wear and can potentially jeopardise your vehicle safety as well. Worn-out tyres affect the ability of the car to come to a complete stop, especially during harsh weather conditions.
How can we help?
At our facility, technicians use state-of-the-art aligners to adjust car alignment per the manufacturer specifications.
At our garage for hunter 4 wheel alignment Stevenage, we focus on re-aligning these three angles:
Camber: Camber refers to the outward or inward tilt of your car wheels when viewed from the front of the vehicle. While a slight inward tilt indicates negative camber, positive camber refers to the outward tilt of the wheels. Proper camber angle is crucial for an extended tyre service life and improved handling precision.
Caster: The slope of the steering axis viewed from a side is the caster angle. Most vehicles have a slightly positive caster angle that improves steering responsiveness and car handling stability.
Toe: The outward or inward tilt of your car wheels when observed from the top is the toe angle. If the wheels tilt inwards, it indicates a toe-in position, while an outward tilt refers to a toe-out. This angle must be per manufacturer specifications for maximum driving comfort and safety.
State-of-the-art German hunter 4 wheel alignment technology
At Lincolns Tyre Service, we use the ultramodern Hunter 4 wheel alignment computerised system, backed by innovative German engineering. Approved by major car manufacturers, Hunter 4 Wheel Alignment is a globally recognised name; we successfully conduct accurate wheel alignment checks and adjustments with the help of such systems.
The Hunter 4 wheel alignment system has specialised patented number wheel contact systems, AC400 clamp, and torque limited clamping. These features help our experts adjust the camber, caster and toe angles in the least possible time with maximum accuracy.
Visit us anytime during business hours for a FREE WHEEL ALIGNMENT CHECK. You will only have to pay if there is a misalignment of wheels, and you want it rectified.
Symptoms of Hunter 4 wheel misalignment
Drop by our facility for a proper Hunter wheel alignment Stevenage if you notice any of these symptoms:
The steering wheel does not retract towards the centre and judders when in motion
Uneven wear of tyre tread
Screeching noise coming from tyres
Extensive wear of outer and inner tyre shoulders, etc.
What causes wheel misalignment?
If you observe any of these wheel misalignment symptoms, it is probably for the following reasons:
Accelerating your car over potholes and speed bumps
Hitting a curb while driving or a concrete block while parking
Car height modification, etc.
Call us on 01438354473 for bookings, quotes and more details.