Are you looking for Wheel Balancing for your vehicle?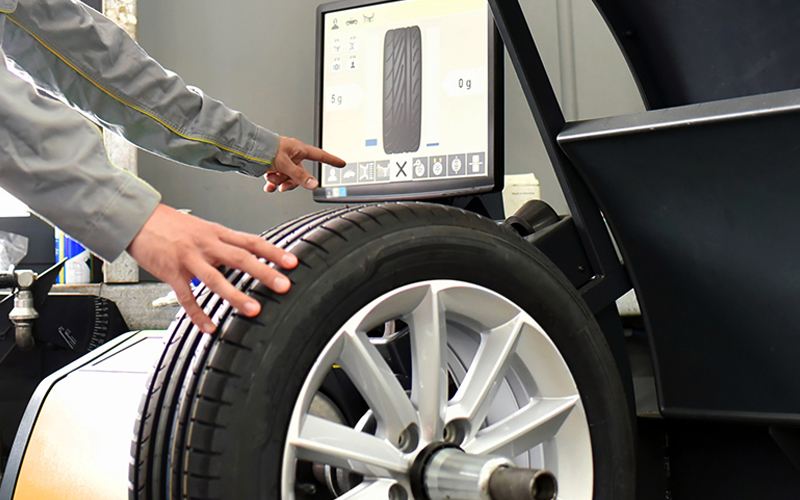 If you are looking for a professional car wheel balancing Stevenage, opt for Lincolns Tyre Service.
We are a professional wheel balancing garage Stevenage, providing efficient and prompt balancing checks at competitive prices. Our certified experts use highly advanced balancers to identify the areas of wheel weight imbalance. After that, they use eco-friendly counterweights to rectify the imbalance and redistribute the weight of the tyre and wheel assemblies.
Driving out-of-balance wheels can exert unnecessary pressure on the wheel bearings and other components of the car suspension system. Furthermore, it can affect the handling abilities of your vehicle and pose a threat to your on-road safety. Hence, experts suggest opting for a balancing check every 6,000 miles or once a year to be on the safer side. We also provide standard wheel balancing checks after each tyre-fitting session.
Importance of wheel balancing Stevenage
Wheel balance refers to a consistent distribution of weight across all the wheels and tyre assemblies so that they can move evenly and uniformly at high speed.
Correct wheel balancing is essential for the following reasons:
Enhanced mileage
Increased tyre service life due to a reduction in uneven tyre wear
Smooth driving experience
Improved handling and cornering abilities
Signs your vehicle requires wheel balancing Stevenage
With regular driving and subsequent tread wear, the wheel balance of your car is eventually disturbed. Look out for the following symptoms to promptly identify and address wheel balancing issues:
Damaged suspension components
Driving on unbalanced wheels can strain the suspension components such as struts, shocks and bearings. A damaged suspension will lead to an uncomfortable driving experience since the vehicle will fail to absorb shocks and jerks.
Uneven tyre wear patterns
Take a look at your car tyres. Do you notice uneven tread wear on them? If yes, the wheels might be out of balance. You must seek professional guidance from our reliable wheel balancing garage Stevenage to rectify the imbalance at the onset.
Strange vibrations
A vehicle with unbalanced wheels will tend to generate odd vibrations. If you keep driving wheels that are off-balance, the vibrations will only worsen and will be felt all over the cabin.
Reduced fuel efficiency
Vehicles with inaccurate wheel balancing Stevenage make more wheel revolutions per minute to cover a certain distance as against vehicles with properly balanced wheels. It exerts excessive stress on the car engine, thereby increasing fuel consumption.
Difficulty with steering
Out-of-balance wheels reduce the responsiveness of your car's steering wheel. The cornering and handling performance also deteriorates sharply due to inaccurately balanced wheels.
What leads to car wheel imbalance?
Misalignment of wheels
Using defective tyres and wheels
Inaccurate tyre pressure
Damaged shock absorbers, etc.
If you are facing any of these issues, don't worry!
Quit searching for a 'wheel balancing garage near me' and drive down to Lincolns Tyre Service for top-notch effective and affordable wheel balancing solutions. We use state-of-the-art balancers to provide both static and dynamic wheel balancing.
Call us on 01438354473 to book a slot.