Search Tyres by Vehicle Registration
Are you looking for Tyre Size for your vehicle?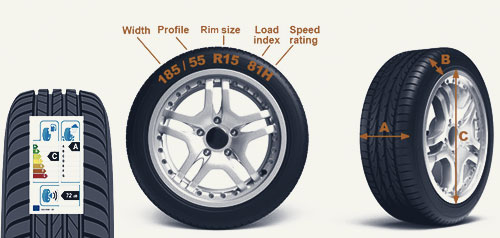 Planning to purchase new tyres for your car?
Ensure to install tyres of the correct size to experience optimal driving performance. Accurate tyre size also enhances vehicle stability, increases on-road safety, and yields tyre longevity.
Experts at Lincolns Tyre Service provide necessary assistance regarding car tyre size so that you make an informed purchase decision. We will help you choose the suitable car tyre per your preference without much hassle.
Decoding tyre size
Tyre size provides details regarding the height and width of the rubber in your car tyres. It also concerns the maximum speed at which your car can operate safely. This crucial set of alphanumeric codes is visible on the tyre's sidewall. However, not many people know how to decode these numbers and letters.
Let us decode a tyre size with this example: 195/55 R16 87V
195: The first number denotes the nominal width of the tyre from one sidewall to the other.
55: The second number, '55' denotes the aspect ratio. The aspect ratio is derived by dividing the tyre's section height by width. In this example, the tyre's aspect ratio is 55, indicating that its height is 55% of its width.
R: Up next, an alphabet indicates the tyre's construction. Here, the letter 'R' stands for Radial construction. They are the most commonly found tyres on the road. Other examples of tyre construction types include 'B' - Bias-ply and 'D' - Diagonal construction.
16: Number '16' denotes the diameter of the wheel in inches.
87: The number next in this sequence denotes load index. In this example, '87' is a code number of the maximum load a vehicle can carry with optimal inflation.
V: This sequence's last alphabet indicates the speed rating.
Ensure that you understand these markings well before purchasing new car tyres Stevenage.
If you have further queries regarding tyre size, contact us on 01438354473.
To purchase tyres, you can visit us at 15 Julians Road, Stevenage, SG1 3ES.
Note: You can also purchase tyres from us online. Just locate our tyre finder tool and enter your vehicle's registration number or tyre size.