Are you looking for Exhaust Service for your vehicle?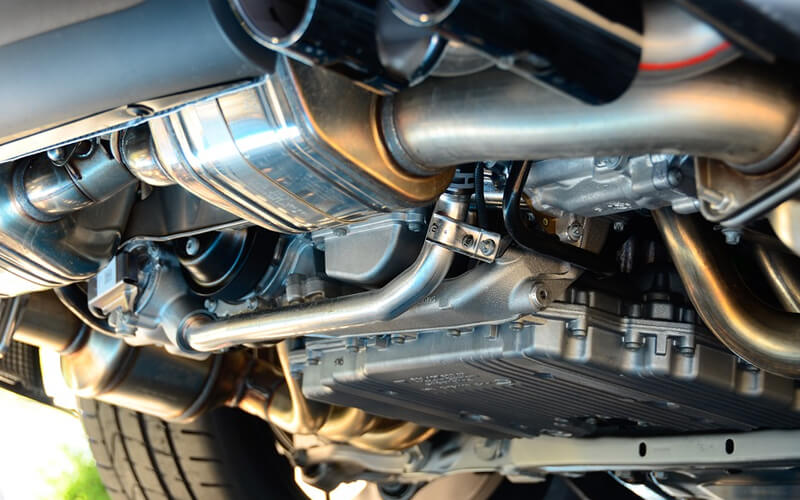 The exhaust system is a highly crucial car component that helps in providing optimum engine performance and enhanced fuel efficiency. It also controls the emission of toxic fumes and drives noxious gases away from the car cabin.
A smoothly functioning exhaust allows vehicular emission to stay within the prescribed legal limits. Therefore, if you detect the symptoms of a malfunctioning exhaust system, make sure to get it checked from a reliable exhaust servicing garage Stevenage.
To resolve all exhaust-related issues, consider opting for Lincolns Tyre Service. We provide value-for-money exhaust repairing services Stevenage for all car makes and models. Our certified technicians are equipped with the latest tools and machinery to provide accurate checks and efficient solutions. Moreover, we stock genuine OE-grade spares to replace damaged exhaust components without hassle.
Components of a car exhaust system
Your vehicle's exhaust system comprises the following parts:
Manifold
Flex pipe
Catalytic converter
Oxygen sensors
Gasket
Resonator assemblies
Mufflers, etc.
If you experience performance issues in any of these components, turn to our exhaust servicing garage Stevenage without further delay.
How to know your car exhaust is failing?
The exhaust system is responsible for converting the toxic fumes and louder sound waves generated from the engine into harmless forms. The catalytic converter chemically converts hazardous gases into non-toxic gaseous mixtures. The muffler and resonator assemblies nullify the louder sound waves.
Here are some of the most obvious signs that would indicate a failing exhaust system:
Pungent odour: Sometimes, the exhaust system can get blocked or choked. It hinders the smooth exit of exhaust fumes. As a result, you might perceive an obnoxious stench of gases within the cabin. Visit our exhaust servicing garage Stevenage at the earliest under such circumstances.
Odd noises and vibrations: If you hear any of the following sounds, you are definitely dealing with a malfunctioning exhaust:
Rumbling: A rumbling noise shows a leakage within the catalytic converter.
Low hissing: The presence of cracks in the exhaust manifold might generate strange hissing sounds.
Roaring: If you hear a roaring sound, it might be due to a damaged or rusted silencer.
Apart from these, you might also hear strange rattling and chugging noises along with severe metallic vibrations.
Reduced fuel efficiency: The exhaust system failing to filter the fumes optimally causes increased fuel consumption. Also, leakages within the exhaust might stress the engine, increasing fuel consumption.
Your vehicle might not be able to clear its annual MOT with a malfunctioning exhaust system. Hence, if you detect any of these symptoms, make sure to get the exhaust components checked by our experts.
Are you still searching for 'exhaust servicing near me'? You can rely on us for the best service!
Drive to our facility or call us to know more about the service charges and other details.