Are you looking for Puncture Repairs for your vehicle?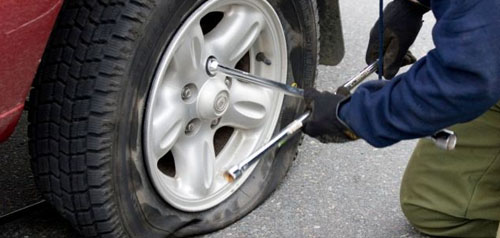 Are you searching for reliable and affordable puncture repair workshops near Stevenage?
Put an end to your search with Lincolns Tyre Service- a one-stop destination for all your tyre-related needs.
We are a reputed car workshop adhering to BS AU 159 standards while carrying out a puncture repair Stevenage. Our professionals are regularly trained and are proficient at using advanced tools for total customer satisfaction.
When should you visit us for a tyre puncture repair?
Here are a few tell-tale signs that punctured tyres exhibit:
Difficulty in steering
Wobbly or shuddering driving experience
Car pulling to one side
Reduced braking efficiency
Blinking TPMS warning light
Feel free to reach us at 15 Julians Road, Stevenage, SG1 3ES, on detecting any of these symptoms.
Why choose us?
There are several DIY puncture repair kits available in the market. However, when it comes to quality tyre repair, you must make a wise decision by visiting a reliable workshop like us.
Note that inaccurate puncture repairs can pose a threat to your driving safety by hampering your vehicle's braking efficiency.
Furthermore, with us, you will receive British Standard puncture repair. Adhering to these standards, we only conduct puncture repair Stevenage if:
The puncture is in the minor repair area of a tyre, which is a tyre's central 3/4th area.
The puncture measures less than 6mm in diameter.
Tyre cords or innards are not exposed.
The tyre is not a run-flat variant.
Note: If your car's tyres have suffered cuts and slits on the rubber or the tyre bead is significantly damaged, we recommend a tyre replacement Stevenage.
A brief overview of puncture repair at Lincolns Tyre Service
Depending upon the extent of damage, we use either of these methods to conduct tyre repair:
Here's how we carry out the process:
First, we will remove the tyre from the wheel and have one of our experts inspect it externally and internally.
If the damages are within legal protocols, we will continue with the repair.
We will then mark the puncture and prepare a channel from the inside of the tyre with advanced tools.
Our experts will completely clean the area using a repair scraper and pre-buff cleaner.
After that, we will buff the liner with a doomed buffing rasp.
Removing dust and all other extraneous materials is the next step.
Next up, we will add a specialised vulcanist accelerator solution to the buffed area and puncture channel.
We will then pull the tyre repair plug and patch outwards till the tyre patch covers the entire damaged area.
Upon that, our experts will roll the patch from its centre to release any possible air bubbles. We will then ensure that the patch has firm contact with the buff liner.
After this, we will seal the combination tyre using an inner liner sealant.
To complete this process, our experts will finally cut the stem of the patch before remounting it back to your car's wheel.
Note: Tyres featuring a 'V' rating or above are repairable only once in their lifetime.
Contact Us
For more information regarding our tyre puncture repair Stevenage, call us on 01438354473.
You can also contact us via email at lincolnstyres@outlook.com.